Nissan says they will return to the 24 Hours of Le Mans in 2014, with an electric race car. Maybe. The press release isn't precise enough to be certain, but it did promise an "all-new race car incorporating electric technology."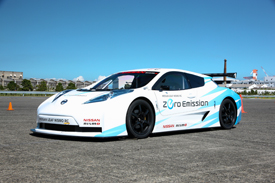 Nismo LEAF RC Electric Race Car
That's enough to make our minds to "whuuuh??" Let's first start with carefully describing Nissan's announcement before pondering what this means.
Nissan President and Chief Executive Officer Carlos Ghosn made the pledge to return to Le Mans during a special event today in Yokohama, Japan to open a new headquarters for NISMO, Nissan's global performance and motorsports brand.
He talked about "a new approach to innovation and excitement [that] will be at the project's core" and confirmed that Nissan's 2014 Le Mans entry will be the "Garage 56" entry for innovative concepts with an all-new race car incorporating electric technology. I don't know Le Mans, but from reading other reports on this Garage 56 is reserved for experimental vehicles, in 2012 it was occupied by the Nissan Delta Wing, and in 2013 it will be occupied by a hydrogen fuel cell race car dubbed the GreenGT.
"We will return to Le Mans with a vehicle that will act as a high-speed test bed in the harshest of environments for both our road car and race car electric vehicle technology," said Mr. Ghosn.
The vehicle will apparently serve two purposes:
Test innovative new powertrain technology
Provide the Automobile Club de l'Ouest (ACO) and the Federation Internationale de l'Automobile (FIA) with data to enable all parties to evaluate the incorporation of this breakthrough technology
That's about it other than a promise to release more details soonish.
Now we get to ponder about how Nissan could plausibly run an endurance race with an electric race car. Electric cars in general have lower energy density than petrol cars, which is the key to their limited driving range. The petrol race cars do make pit stops to refuel, but those stops are typically a minute or whatever minimal length of time to put the least impact on race results. Electric cars however require a long recharge time, relatively speaking.
First - is this going to be an all electric car?
The press release does not use phrases like "zero emissions" or "all electric." It instead says "race car electric vehicle technology" which I find to be imprecise enough that I'm not convinced this will be an all electric car. However, if it were to be a hybrid race car they would have said so, right?
Maybe it is an all electric car?
Second - if it is an all electric car, how can they hope to make more than a couple laps with it? That is, the Drayson electric race car lasts for 15 minutes or so of racing time. The Formula E electric race cars will have a similar racing time, and in that series they'll be using four cars per team for a continuous race.
There are two ways to go about a longer race format like a 24 hours endurance race in an electric car.
Swappable battery packs, with charging in the pit
Fast charging
I've seen a 24 hour endurance race run with electric vehicles - the 24 Hours of Electricross staged by Zero Motorcycles in 2009. In that case each team had 3 battery packs, one on the bike, and the other two in the pit charging. The Zero bikes used in that event have fast swap battery packs that can be exchanged within a minute or so, which let the rider exit the race, swap the packs, and a fresh rider get on the track, all in a jiffy.
It's plausible then that a fast swap battery pack could enable an electric race car to run for 24 hours. I can hear the question: Isn't that cheating, compared to petrol race cars? No, it isn't. It's the equivalent of the petrol driven race cars refilling the fuel tank.